Leveraging on our vast industry knowledge, we provide disruptive solutions that drive business and personal growth.
XEM Consultants Ltd. is a leading Consultancy Company in West Africa, offering strategic and innovative services in Business Development; Project Management, Brand Promotion/Partnerships, ICT and Specialized Education/Trainings for organizations in the public and private sector.
XEM is accredited by the National Centre for Management Development (NCMD) and chartered by the Chartered Institute of Management Consultants (CIMC), Canada. XEM Consultants Ltd is also certified by Centre for Management Development (CMD), Nigeria.
As a testament to the quality of services we offer, XEM Consultants Ltd is the recipient of ISO 9001:2015 for Quality Management System (QMS).
Our goal at XEM Consultants Ltd is to provide for our clients and Africa services in line with international best practices and to help our clients unlock their full potential.
In order to achieve this, we partner with international highly rated institutions to provide for our clients global opportunities beyond imagination.
At XEM, our clients are not just clients, we've become a family that shares the same vision for global excellence. We enjoin you to come along with us as we build a legacy of excellence.
Our Mission
To deliver innovative services and outstanding results, ensure seamless business integration, increase competitive advantage, and explore global opportunities beyond expectations.
Our Vision
To become the leading brand in consultancy services in Nigeria and beyond.



Certificate of registration with the corporate affairs commission (CAC)
The Global Standard (TGS)
Chartered Institute of Management Consultants (CIMC)
Certified quality management system - iso 9001:2015 by the global standard organization, UK
Nigerian Council for Management Development (NCMD)
Accredited by the center for management development (CMD)
Current 2022 pension compliance certificate with national pension commission (PENCOM)
Tax compliance certificate from federal inland revenue service (FIRS)
Current (2022) industrial training fund (ITF) compliance certificate
Current (2022) nigeria social insurance trust fund (NSITF)
Current (2022) interim registration report by bureau of public procurement (BPP)
Nigerian Export Promotion Council (NEPC)
Consultants with over 30 years relevant industry experience
Partners to high rated global institutions
NCMD accredited training Institution
CMD accredited trainers
ISO 9001- 2015 certified
Chartered Management Consultants – CIMC, Canada
International Offices – China, Germany & SA
Access to over 50+ first class rated universities & training hubs in Africa & Asia
Information support desk for overseas partners
Foreign aid training and scholarships
Visa support services for international engagements
Infrastructure development and exchange facilitation
Trade and investment consultation for China market
XEM Consultant Ltd. is a brand established to serve as hub for global partnerships,
opportunities and capacity development in Africa

We assist in initiating, Tracking and Monitoring, Controlling and Promoting projects, sourcing opportunities, conducting special research and helping organizations in procurement, sales representation and partnerships facilitation.
Our key personnel are seasoned and experienced experts with over 20 years of experience in relevant fields providing international standard services, programs and advisory support to our local and foreign clients.
Eugenia Chinenye, Ndukwe, PhD.
Eugenia is a Partnership Expert and a certified Management Consultant by Chartered Institute of Management Consultant (CIMC) Canada and Center for Management Development (CMD) Nigeria.
A researcher, an Administrator, a diplomat and a seasoned entrepreneur. Member International Public Policy Association (IPPA), Young African Leadership Initiative (YALI), Institute of Public Administrators (IPA), and Nigeria Power Sector Strategic Communication Team (PSSCT).
She has over 8 years' experience in the Nigeria Public Sector and has served as a special assistant to the Chairman, Senate Committee on Education for 3 years and over 5 years as Public Relations Executive in the Nigeria Power Sector capacity development department.
She is the MD/CEO Xclusive Education and Management Consultancy firm and Xclusive Corporate and Office Supplies Ltd.
With her entrepreneurial skills, she has been able and successfully partnered many public and private sector clients with partners in the Asian Pacific Region especially in the area of technical training and development, public policy and infrastructure development, Her consultancy has consulted for both the public, private and government agencies.
Advisory Consultant, Engineering, Research & Development
Engr. Chinedu O. Nebo is a mining and metallurgical engineer. Member, Council for the Regulation of Engineering in Nigeria (COREN). He is a Fellow, Nigerian Society of Engineers; Fellow, Materials Society of Nigeria; Member, Society of Mining, Metallurgy, and Exploration, AIME, U.S.A; Member, American Society for Metals.
He served as a Deputy Vice-Chancellor Enugu State University of Technology (ESUT 2000-2004), Vice-Chancellor (2004-2009) University of Nigeria, Nsukka (UNN) and Vice-Chancellor (2011-2013) Federal University of OYE-Ekiti (FUOYE) where his landmark achievements lead to his appointment as the Honourable Minister of Power for the federation. His hallmarks expertize lead to creation of Operation Electrify Nigeria, Operation Light-Up Rural Nigeria. His impact in the power sector secured approval of the President to establish the National Council on Power, Electricity Management Services Ltd and the development of a National Renewable Energy and Energy Conservation Policy signed in May 2015. He is currently on the advisory board of XEM Consultants Ltd.
Advisory Consultant, Technical Project
Engr. Reuben Onwegbuna Okeke is an Electrical Engineer with over 20 years work experience in the Nigerian Power Sector. A fellow, Nigeria Society of Engineers (FNSE); member, council of the regulation of engineers (COREN); Council member, COREN council (representing Nigeria Society of Engineers); member, Nigeria Institution of Management.
He has served in diverse Managerial positions Districts Manager, Asst. Gn. Manager, General Manager and CEO in different electrical Distribution Business unit in Nigeria with the foremost electricity company, Power Holding Company of Nigeria (Formerly National Electrical Power Authority). He was appointed the pioneering Director- General of National Power Training Institute of Nigeria (NAPTIN) where his experience and capacity in leadership and managerial qualities got NAPTIN several recognitions and awards both locally and internationally. Since retirement from the public service, has been providing advisory and technical support to XEM Consultants.
Principal Consultant Human Resource Management
Ibrahim Baba Gana is a Sociologist, an administrator and a business merchant in the power sector. He was a lecturer at the University of Maiduguri before his appointment in the Nigeria Electrical Power Authority as Senior Manager (Recruitment).
He joined Bureau of Public Enterprise as Assistant Director (HR) and since then, he has been appointed to several positions including Director PTM Department BPE where his master class experience and Technicality in power sector business negotiations and dealings can never be over-emphasized. An astute administrator and negotiation specialist. He has since retired from public service and currently provides his expertise on managerial trainings for the company.
DR. MOHAMMED BELLO IBRAHIM
Principal Consultant, Project Development & Coordination
Dr. Mohammed Bello Ibrahim is an erudite academician. He holds Bachelor of Science Degree (Bs.C) in Biochemistry from the Ahmadu Bello University (ABU), Zaria, Master of Science Degree (Ms.C) in Biochemistry from University of Jos, 1990 and Doctor of Philosophy (PhD) in Biochemistry from ABU, Zaria. 
He is a professional Member of Nigerian Society of Biochemistry and Molecular (NSBM), Nigerian Society of Environmental Health (NSEH), Quality Control Society of Nigeria (QSON), Nigerian Safety Association (NSA), National Industrial Safety Council of Nigeria (NISCN), Nigerian Environmental Society (NES), Biotechnology Society of Nigeria (BSN), Nigerian Institute of Safety Professionals (NISP), American Society of Safety Engineers (ASSE), Chemical Society of Nigeria (CSN), and Nigerian Institute of Management(Chartered) (NIM).
Dr. Ibrahim joined the services of Kaduna Polytechnic in 1986 as Assistant Lecturer 1 and rose to the post of Chief Lecturer in 2006. He transferred his services to Petroleum Training Institute, Effurun, Delta State in 2002 and rose to the post of Assistant Director in 2011. Dr. Ibrahim is the current Rector of Kaduna Polytechnic.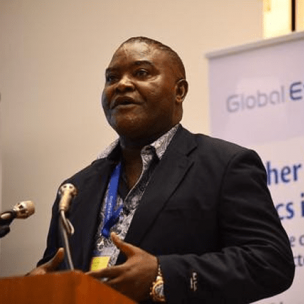 Principal Consultant, Capacity Building and Management Development
Dr. Casimir Ani is an erudite academician.  Fellows at both the Institute of African Studies and Institute of Development Studies, University of Nigeria, Nigeria. He holds a Bachelors, Masters and Phd in Socio-political Philosophy from the University of Nigeria, Nsukka as well as a Pgd Education in Human Values, The African Institute for Sathya Sai Education in Human Values (TAISSE), Sathya Sai University Andra Pradesh India.
He is a professional Member of Educational Research Council Africa (ERCA), Teachers Registration Council of Nigeria (TRCN), National Association of Civil society Organizations on Intangible Cultural Heritage Matters (NACSOICHM), African Council of Human rights Teachers (ACHRT), Expert Mechanism Panel (EMP), World Intellectual Property Organization (UNPO), UN, Geneva(WIPO), UNESCO, United Nations Indigenous people Forum,Geneva, TAISSE, International Education Committee,India. Dr. Casimir Ani is the current Director of Strategic Contacts, Ethics & Publication (STRACEP), UNN.
Rebecca Oluwatoyin Doherty
Lead Consultant, International Education & Overseas Training
Rebecca Doherty is an international education consultant. She holds Bachelor of Science Degree (Bs.C) in English Pre-Law (Honors), Minor, Political Science from Howard University, USA, Master of Arts, International Education from The George Washington University, USA And Master of Education, Special Studies, US Education Systemic Reform from Havard University. She is a researcher and an entrepreneur at heart.
She is a professional Member of American Educational Research Association (AERA), American Sociological Association (ASA), Arlington Independent Media (AIM), Association of Childhood Education International (ACEI), Comparative and International Education Society (CIES), United Nations Association for the National Capital Area (UNANCA).
Associate Consultant/ Data & Information Analyst
Paul Iloanya is an Education and Research Expert, Information Manager and Analyst. He holds Master degree in Information Science from Jilin University, Changchun, China.
He has vast knowledge on Microsoft Office programming, Graphic packages, Statistical packages, Data collection & collation, Interpretation and Management.